Bayern Munich have inflicted Barcelona their heavest defeat in Champions League and club history. The Bavarian giants crushed the Barcelona 8-2 to progress to the semi final of the Champions League.
No one would've envisage such a humiliating defeat to Barcelona and the ease to which Bayern Munich won. They were better in all ramification and thier movement on and off the ball was simply world class. Hans Flick has built arguably the best Bayern Munich team in history and the boys are scoring goals for fun. They've scored 39 goals in 9 Champions League.
The Man of the match 'Alfonso Davies' was simply unstoppable and difficult to contain. He made a Champions League highlight by cutting in and out of Nelson Semedo before driving into Barcelona's defense to set up Joshua Kimmich for the fifth goal of the match.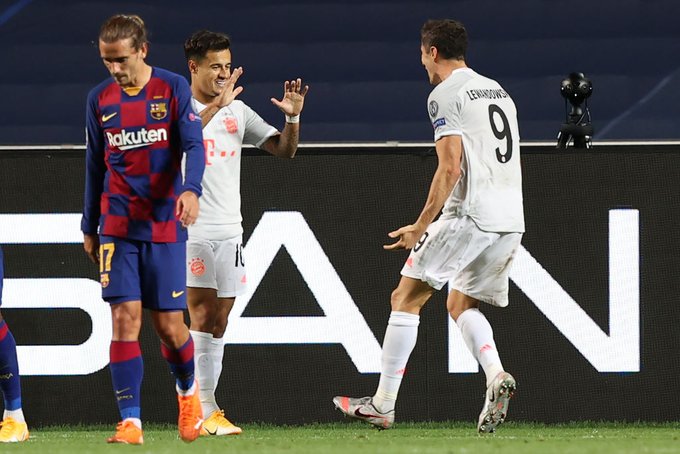 For the first time in Bayern Munich's history they've scored 8 goals with 6 different scorers including a loan player from the opposition team. Philippe Coutinho is currently on loan from Barcelona but, the Brazilian just couldn't help himself.
He scored the seventh and eight goal to all but dump Barcelona out of the Champions League.
Barcelona will finish this season trophy less while Bayern Munich could win a record five trophies including thier first Champions League title since 2013.