Bayern Munich have knocked Barcelona out of the Champions League with an 8-2 drubbing. The Bavarian giants produced arguably the greatest display in Champions League history by scoring four goals in the first half and another four in the second half by six different players.
Robert Lewandowski might be the star player of the team and the most talked about but, the present Bayern squad is currently the best in Europe.
Here are the 8 things we learnt;
Quique Setien will be sacked– Barcelona will likely sack Setien who have woefully failed in his first season in charge of Barcelona. He is now Barcelona's first manager in 7 years to end the season trophy-less while been inflicted with the club's heaviest defeat in history.
Philippe Coutinho has ended his ties with Barcelona- The Brazilian was visibly seen in the stands celebrating wildly whenever Bayern Munich scored. He even added to Barcelona's misery by scoring Bayern's seventh and eighth goals. Coutinho will win the Champions League with Bayern Munich before sealing a big money move to PSG.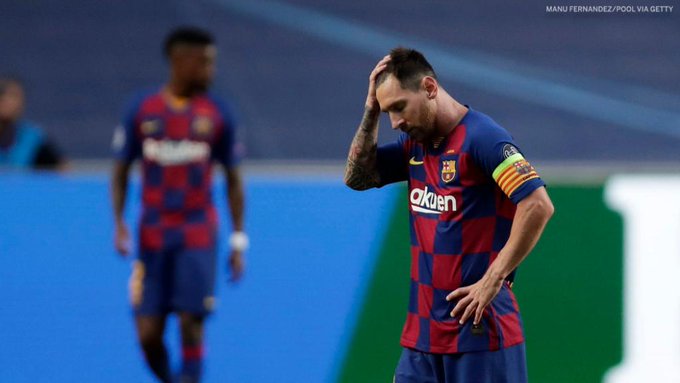 Sergio Busquet and Arturo Vidal have outlived their usefulness in Barcelona's midfield– Apart from De Jong who was running his soaks off and closing down Bayern Munich's superb attackers, Sergio Busquet and Arturo Vidal were busing chasing shadows.
In fact, Busquet managed just 4 interceptions in the first 30 minutes and 6 in 70 minutes which goes to show how porous Barcelona's midfield was. The Barcelona legend along with Arturo Vidal have to take aa bow and leave Camp Nou.
Barcelona can no longer rely on Lionel Messi– The 33-year-old was manhandled by Bayern Munich's midfield who realized that he could no longer dribble past tackles with ease. He was pushed, shoved and shackled off the ball by two to three players. In fact, Messi was responsible for the 7th goal in which Phillipe Coutinho scored.
Robert Lewandowski is the world best striker- Luis Suarez might have scored a sensational goal against Bayern but, Lewandowski's off the ball movement was just brilliant. He drew Barcelona's defenders out of the position and allowed his attacking partners to score a flurry of goals. He has now scored 55 goals in all competition, brilliant.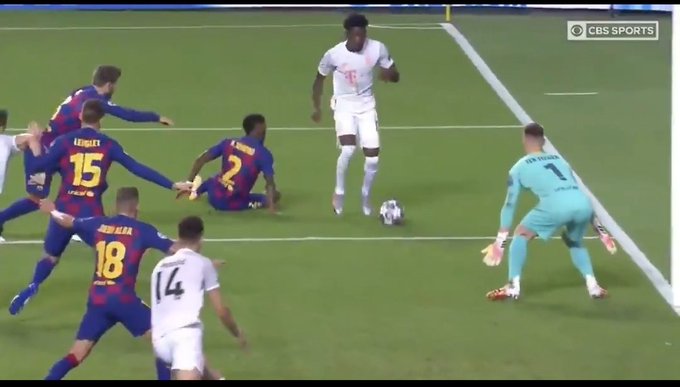 Alfonso Davies is a potential world class player- The Canadian international is going to become a world class player in no distant future. His amazing runs, dribbling skills, link up play and defending was just superb. He is an excellent player to have in the team.
David Alaba and Jerome Boateng are vulnerable- Bayenr Munich might have blown Barcelona apart but tier centre backs are vulnerable. David Alaba assisted Barcelona by scoring their first goal of the match and his defensive partner Jerome Boateng was embarrassed by Luis Suarez to score the second.
Those two must improve if Bayern are to win the Champions League. As the old saying goes; 'strikers score you goals, defenders win you titles'.
Antoine Griezmann's first season at Barcelona is a disaster– The 8-2 annihilation of Barcelona by Bayern sums up Antoine Griezmann's future at Barcelona. The move have failed woefully and affected the club's chances of winning the titles this season.
For the first time in 7 years, Barcleona will end the season trophy-less.