Liverpool have beaten Chelsea 2-0 at Stamford Bridge to make it two wins from two matches. Jurgen Klopp's team were tactically better, much suited to the intensity and rhythm of the game as it went on as well as clinical when the chances presented itself in front of goal.
The Reds did get a little bit of luck in winning the match after the referee had adjudged that Christiansen been the last defender fouled Sadio Mane who was barring down on goal. His sending off impacted the match and instantly gave Liverpool the edge in beating Chelsea.
Man of the match will go to Sadio Mane who powered in a header past Kepa to put Liverpool in front before applying intense pressure to dispose Kepa and slotting in the ball to make it 2-0. Kepa fumble will certainly intensify the signing of Rennes shots topper Eduardo Mendy.
Here the five things we learnt:
Squad rotation will be key to Liverpool retaining the Premier League title- Jurgen Klopp finally have a squad capable of winning the domestic treble along with the Champions League. The Reds can now summon the likes of Thiago Alcantara, Takumi Minimino, Oxlade Chamberlian and soon Jota to change the game.
Thiago Alcantara have to use more of his brain and less of his muscle– It took Thiago just 13 minute of his Liverpool debut to give away a penalty which almost give Chelsea a lifeline to get back into the game. But thanks to Alisson Becker, Liverpool hanged on and won the game.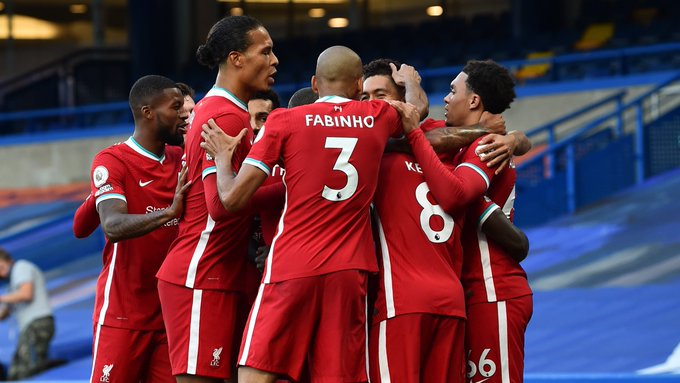 Defensively, Chelsea are vulnerable and need a leader like Thiago Silva- Christensen foul on Sadio Mane summons up why Chelsea have to get Thiago fit and motivated to play. The Brazilian isn't just a world class centre back, he is a leader with loads of experience.
Cheslea need a commanding defender who knows when to tackle, intercept or put his hang across a pacy attacker.
Timo Werner's explosive pace will cause defenders lots of problems- The 24-year-old was arguably Chelsea's most dangerous player and his electrifying pace really caused Liverpool defenders lots of problems. Werner will cause Premier League defenders lots of problems especially when running behind them.
Chelsea aren't Premier League title challengers, the new signings need time to gel– From the evidence of play, Frank Lampard needs time to get his team playing the way he wants and understanding each other. Sometimes it felt Timo Werner was left alone to attack with little or no help from his teammates. His teammates need to understand how it plays but it will take time for that to happen.
Kepa is out of form and will play second fiddle to Eduardo Mendy– Kepa is as good as finished at Chelsea after another embarrassing display against Liverpool. The Spaniard misplaced pass allowed Sadio Mane to rob him of the ball an slot it in to make it 2-0.
Strangely, Frank Lampard didn't flinch cause it knew intutively, the Kepa will make a mistake soon.