Football is a contact sport and they're bound to be injuries. Some players are resistant to knocks and cramps and don't get injured for a whole season. Some might get injured but recover in two or 4 weeks.
While others never seem to recover fully, no matter the treatments and rest period. They're likely to break down after five or 10 games.
Players like Jack Wilshere, Arjen Robben, Oxlade Chamberlian, Ousame Dembele, Joel Matip, Kingsley Coman, Gareth Bale and now Eden Hazard are never fit and always injured.
Hazard's though is completely different. He was once a durable and reliable player in the Premier League with Chelsea.
At Stamford Bridge he was the talisman. The club's goal getter and match winners. Hazard's displays and goals attracted Real Madrid who at some stage thought he could replace Cristiano Ronaldo and continue the clubs' unbelievable dominance in the Champions League.
But sadly, that assumption was very wrong.
Eden Hazard has managed just 22 appearances for Real Madrid in over a year and six months. He has been unavailable for 229 days having suffered 7 injuries in that period.
This season alone, he has suffered 2 injuries already but still managed six appearances in Real Madrid's 14 matches.
But against Alaves, Hazard suffered another injury to make it seven times in just a year and six months.
His recurring injuries have left everyone speechless including Zinedine Zidane who couldn't understand why Hazard can't stay fit and help his team against Alaves.
Asked to explain what happened to Real Madrid and Hazard in the defeat to Alaves at the Santaigo Bernebue, Zidane stayed mute. He couldn't give one single reason why Real Madrid are suffering despite having Eden Hazard.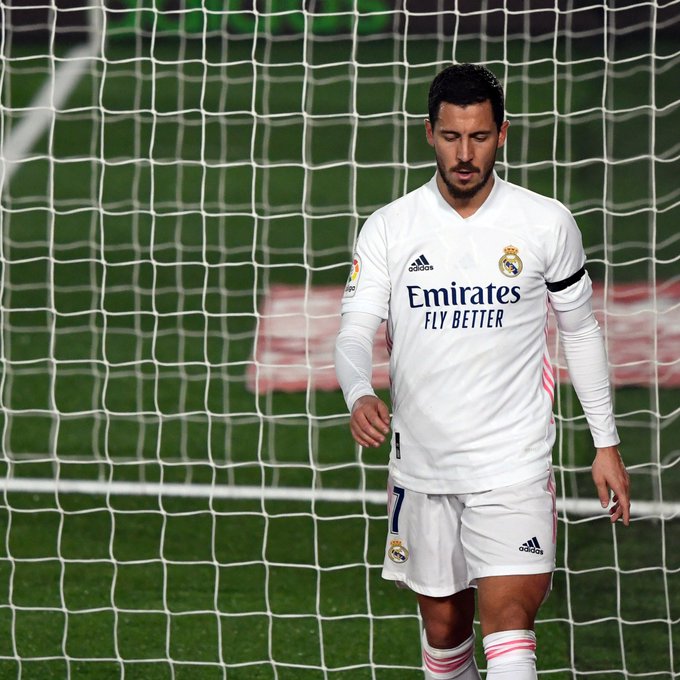 Zidane has run out of excuses and his patience and that of the club is growing thin.
Hazard though won't be the first high profile signing who can't stay fit at Madrid. Los Blancos have dealt with players like that before.
The likes Arjen Robben, Mamadou Diarra, Xabi Alonso, Royston Drenthe and others' lasted less than two years at the club before they were replaced.
Once Kylian Mbappe arrives in the summer, Eden Hazard will be deemed surplus to requirement. He will leave like other unfit attackers before him to Bayern Munich or whatever club that knows how to patch up injury plagued players.