Didi Hamann assertion that Thiago Alcantara is making Liverpool worse might sound ridiculous but, there's a little element of truth in it.
Before Thiago Alcantara joined Liverpool from Bayern Munich in a $20m deal, the Reds were known to have three hardworking midfielders whose primarily jobs were to close down spaces and harry the opposition to relinquish the ball.
Those three were tagged 'workhorse' by the media but, Jurgen Klopp wanted something different.
He wanted a midfield who could dominate the game like his previous Borrusia Dortmund team and win back to back Premier League titles.
The addition of Thiago Alcantara was to help Liverpool keep the ball much better and create chances for the front three. Right now, Liverpool are exceptionally good in keeping the ball but, they're other issues limiting the Reds from truly dominant the league.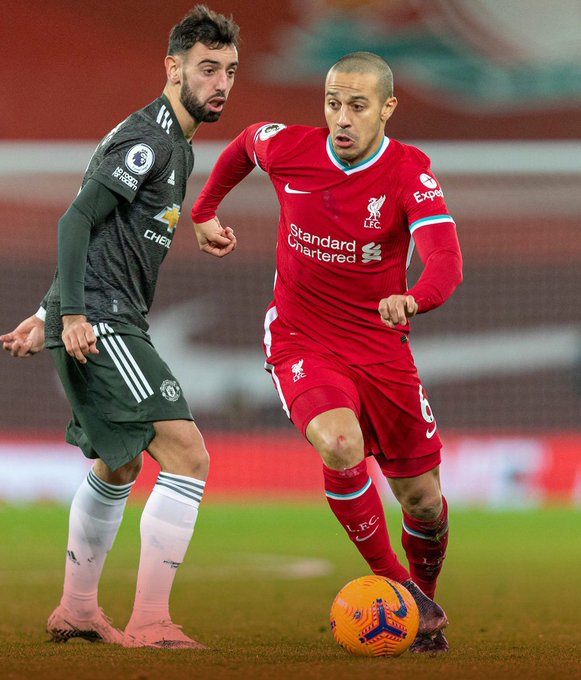 First, the injuries to Reds reliable centre backs- Van Dijk and Joe Gomez- have affected the entire setup of the team. Secondly, Fabinho and Jordan Henderson are playing out of position and finally, the front three are not' scoring goals.
Therefore, blaming Thiago for the Reds awful run of form don't make sense.
Liverpool are not in form and still Thiago Alcantara manages to plough through the mediocrity and controls the game. His ability to keep the ball much longer and deny the opposition time on the ball to orchestrate a shooting chance have massively helped Liverpool pick up points in games they should've lost.
Don't forget, his game mantra is not to score goals nor to defend them. His job description is to dictate the tempo of the game which he is doing excellently.
To put it bluntly, Liverpool aren't slower with Thiago in midfield, they're just better in working the ball into shooting position with no inform striker to shoot.