The banners , tweets, messages and endless support for Jurgen Klopp might have worked in buying him more time at the club but at end of the season, Liverpool's decision makers will make a definitive decision on Klopp's future.
They all know a time will come when Jurgen Klopp's aura will begin to fade and he need his players to fight for him and keep him at the job.
Klopp's Liverpool are doing everything they did last season and even creating more chances to score but, some of the players aren't putting enough effort in front of goal.
Apart from fit Mohamed Salah, GIni WIjnaldum, Jordan Henderson, James Milner, and Fabinho who are still feeding off the energy of the manager and playing exceptionally well, the rest of the playing cast have all digressed.
Players like Trent Alexander Arnold, Andrew Robertson, Alisson Becker, Sadio Mane, Divock Origi and the worst of the bunch Roberto Firmino have all folded their arms and watched as the team collapses.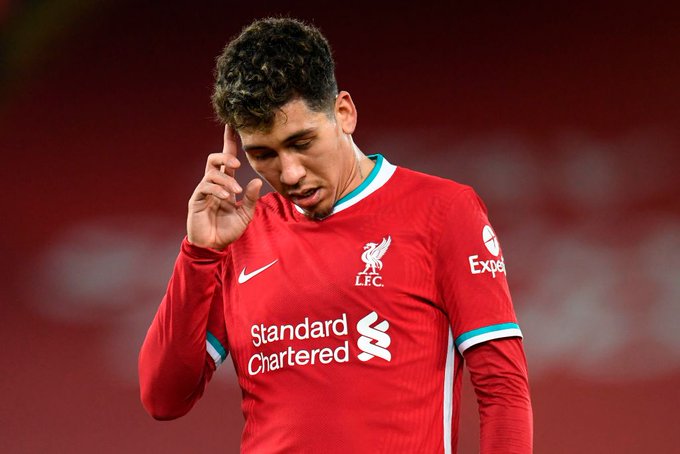 Firmino for instance took his game to another level when he felt his position in the first team was about to be taken by Diojo Jota. His teammates showed him affection whenever he scored and tried pushing him to score more goals cause they were all determined to create chances for him to shoot.
But as soon as Jota got injured, Firmino and everyone else felt relaxed despite been on top of the Premier League table.
Simply put, Liverpool's decline to mediocrity is not all about 'Van Dijk, Joe Gomez or Joel Matip's' injury, it is simply because the players have found no reason to fight ruthlessly.
The fire in the belly of the players has been quenched. Sadio Mane can't even score goals, its all Salah now.
Sadly, the embarrassing display from Liverpool have seen 4 year winning run at Anfield come to end. The Reds have also lost 3 consecutive games in a row for the first time since 2012 and have also lost their 18 years unbeaten run against Manchester City with a 4-1 thrashing.
Alisson Becker's back to back howler against Manchester City and then Leicester City sums up the mood in the team. Half of the team aren't fighting for Jurgen Klopp and that will certainly cost him his job.
Klopp must now call his underperforming players and try to rally them up.
He has to make them believe they can win another Champions League trophy now that Van DIjk has returned to training. A united Liverpool is far stronger than a divider one.