Who would've envisaged a Liverpool team that picked up 70 points from 24 games last season will be 30 points short the following season after the same number of games.
The Reds decline is baffling and yet disturbing knowing that the current Liverpool team is by far the strongest team in the Premier League even without Van Dijk or Joe Gomez.
If that is known then why is Liverpool struggling to win games? The Reds will not win a single domestic trophy this season and will be lucky not be humiliated by RB Liepzig in the Champions League.
Liverpool fall should never been blamed on Van Dijk's absence, Thiago Alcantara's artistry, Jurgen Klopp's training method or, the absence of fans, it should be blamed on six first players.
Players like Trent Alexander Arnold, Andrew Robertson, Alisson Becker, Sadio Mane, Alisson Becker and Roberto Firmino have all failed the team. They no longer have the drive or motivation to win games.
Trent Alexander Arnold and Andrew Robertson have dipped massively and now struggling to provide the width or pinpoint crosses needed to break down defenses.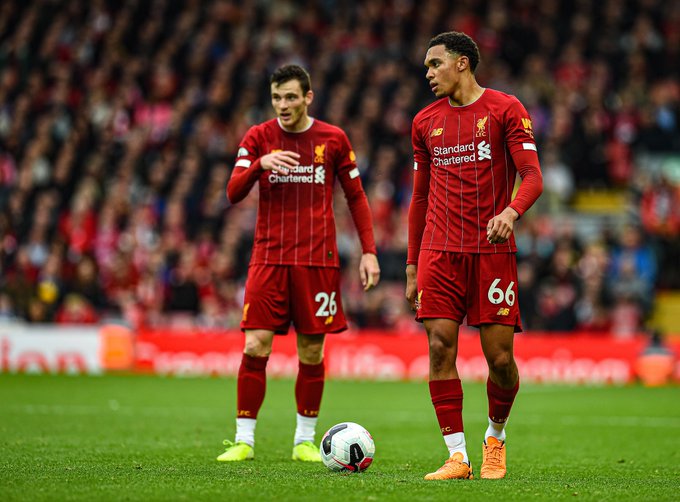 Defensively, both Arnold and Robertson have become liabilities.
Reds number one goalkeeper Alisson Becker has become a shadow of his former self. The Brazilian's showed how average he is by committing back to back howlers against Manchester City and Leicester City.
Klopp will be crazy to play him against RB Leipzig when he has super talented Caimochen Kelleher on the bench.
Sadio Mane has literally stopped scoring goals. Unlike last season when he was finding the back of the net consistently, this season, Mane has retrenched and allowed Mohamed Salah to take the whole burden of scoring goals.
Sadly, Mane isn't working as hard as before probably because there's no trophy to be won after all the struggles.
Roberto Firmino meanwhile has stopped scoring goals since Diojo Jota got injured. Jota was a threat to Firmino and the Brazilian knew he had to start finding the back of the net consistently on risk settling on the bench for Jota.
His teammates though where ready to fight for him and ensured he stayed in the team by providing chances for him and Jota to score. But as soon as Portuguese striker got injured, everyone including Firmino just relaxed.
Klopp knows his job on the line and must try as hard as possible to get this six players motivated or, simply drop them for others to take their place.