Everyone knows why Liverpool's season end up in tatters and what needed to be done to fix it. Ibrahima Konate's signings was a breath of fresh a air.
Seeing him arrival so early was good business and a quick reminded that FSG, sporting director Michael Edwards and Jurgen Klopp actually know what they were doing.
'Building a world class team is imperative on and off the field success' and Liverpool were setting the pace with Ibrahima Konate early arrival.
Sadly, Konate is the first and last player to arrive Liverpool which frankly is questionable. When will Liverpool sign GIni Wijnaldum's replacement knowing the Dutch man was the fittest, most energetic and dynamic midfielder the club had.
Gini wasn't just pressing like a possessed man, he only also contributed in the goal scoring department. But with him gone, Liverpool have again been robbed of a world class midfielder without adequately replacing them.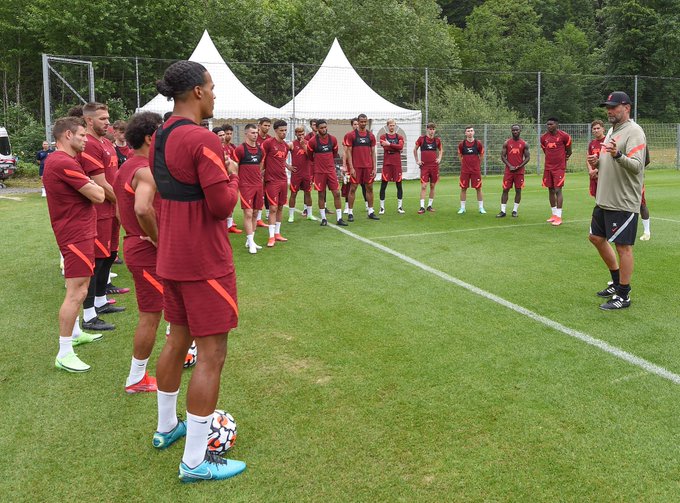 Shamefully, the manager Jurgen Klopp thinks his team can succeed with mediocre midfielders like 'Naby Keita, Oxlade Chamberlian, Curtis Jones and those below'. Thiago Alcantara is the only upgrade on GIni Wijnaldum but the truth remains, the Brazilian born midfielder is not reliable and will definitely break down going into the crucial period of the season.
No doubt every Liverpool love to watch Jurgen Klopp fist pumping to the air when his team wins or hugging everyone that comes to his sight. But if Liverpool suffers another injury plagued season like last season due to poor recruitment, no one will care about Klopp's past achievement or excuses.
Liverpool fans aren't stupid, they know the team isn't strong enough to win the Premier League title or the Champions League having watched Manchester City sign Jack Grealish and soon Harry Kane. Chelsea meanwhile are about to sign Europe's most improved forward Romelu Lukaku despite spending $56m on Timo Werner last season.
That alone is shows ambitious club's can be unlike Liverpool who can't sign a combative midfielder to replace Gini; a striker to finally replace Divock Origi and off course, another defender to step in once Joel Matip breaks down.
Yes! we all love Klopp and the improvements he has made on the team but, no one wants a 'yes man' in the dug out. Supporters want a manager who is passionate about success and can speak up once the club derails from its responsibility.
John Henry promised to revamp the squad 48hrs after his plot with other greedy president failed to kick off 'European Super League' but now we all getting a clearer picture of who is and what he thinks about the club.
Thankfully, he has self absorbed manager Jurgen Klopp who will say 'yes to anything' even to the decision of letting his best midfielder leave GIni Wijnaldum and soon his captain- Jordan Henderson all for the sake of money.