Liverpool might have played out a 1-1 draw with Chelsea at Anfield but, the game would've ended in a defeat had Mark Taylor waved aside Reece James innocuous handball.
If he had given just a penalty and a yellow card, Chelsea would've still won cause they had better players who knew how to cut throw a tight defense and smash the ball behind the back of the net.
Defensively, Chelsea are exceptionally good and they proved it against a mediocre Liverpool's attack that kept moving the ball from flank to flank hoping to cut throw and score.
1-1 is how the game ended but they're 5 things we learnt;
Harvey Elliot is not good enough to replace Gini Wijnaldum– Harvey Elliot have the potential to become a top player but at the moment, Liverpool will be better off signing a world class midfielder if they're serious about wining the Premier League title or the Champions League.
Jurgen Klopp will be making a very serious mistake sticking with Harvey Elliot for the rest of campaign. The referee might have helped Liverpool secure a 1-1 draw against Chelsea, another referee won't even budge.
Sadio Mane needs competition- This is not the first time nor second or third time Sadio Mane have been useless when required to up his game against a top opposition. The Senegalese had a decent game in the first half but was completely useless in the second half.
He failed repetitively to beat his marker, create a meaningful chance or even stay on his feet. Whenever a tackle comes in, Mane is down. He was frankly useless.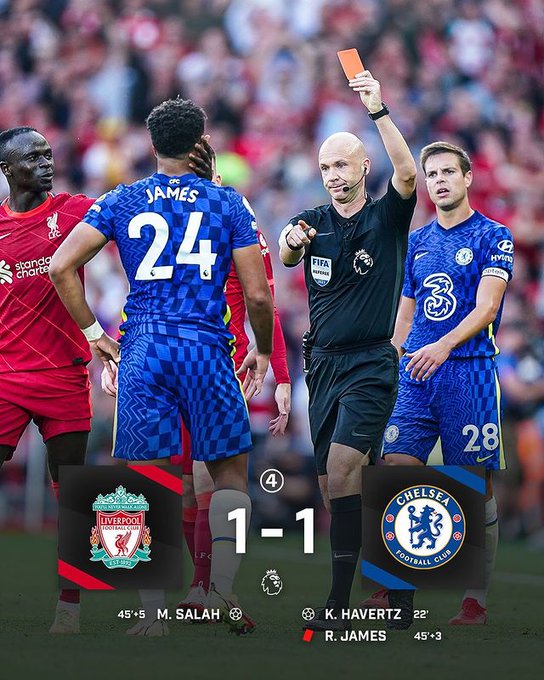 Romelu Lukaku must learn to depend more on his brain and less on his strength- Against Liverpool, Romelu Lukaku struggled to hold up play and bring his teammate into the game cause Joel Matip and Virgil van Dijk were equally as strong as he is.
They matched him physically and out played him technically.
Lukaku has to depend less on his strength and more on his brain just like Zlatan Ibrahimovic, Didier Drogba or even Luca Toni.
Chelsea need to sign a deep playing midfielder- Chelsea really need to sign a deep playing midfielder to provide cover in case Jorginho or N'Golo Kante were out for long period. The current is definitely strong with Mateo Kovacic sitting on the bench but, the club need another player who will provide protection and string in passes from deep.
Saul will be an excellent addition to Chelsea's talented team.
Liverpool need to sign a midfielder and a winger- With Gini Wijnaldum and Xherdan Shaqiri gone, Liverpool really need to sign a midfielder who can play alongside Jordan Henderson and Fabinho and give Alisson Becker the cover he desperately needs.
They also need to sign a winger who can provide serious competition for Sadio Mane and Mohamed Salah. Diego Jota is without doubt better than Roberto Firmino while Kostas Tsimikas is stepping up his game and trying to push Andrew Robertson out of the first team.
Jurgen Klopp and Thomas Tuchel will decide who wins the Premier League title– Manchester City might be the current league champions but its obvious that Chelsea and Liverpool will determine who win it thiss eason.
But teams have the quality to go all the way but have to improve their respective squads.