The history we think we know today would've be different if certian players and managers decided against joining club's they were destined to.
Lionel Messi had signed for Real Madrid youth academy rather than Barcelona
Today no one will have been talking about him. Why? Real Madrid operates in a completely different way to Barcelona.
Barcelona's football philopshy is centered around Johan Cruyff 'beautiful football approach' and players who get promoted from the first team or join them must posses the DNA. Real Madrid on the other hand is assembling of superstars who are expected to win matches regardless of who the manager is and the system he likes to play.
Messi would've struggled with identity crises before leaving the Santiago Bernebau for a less club. He would've been the shadow of his predestined self.
Cristiano Ronaldo to Chelsea
The same goes to Cristiano Ronaldo, if had joined Chelsea rather Manchester United, his performances would've have deepen before been shipped out to the German league or Seria A. He would been another curious case of what if.
If Ronaldo and Messi had taken different routes it would've changed the history books of Manchester United, Barcelona, Real Madrid, PSG, Juventus, Portugal and Argentina would've be different.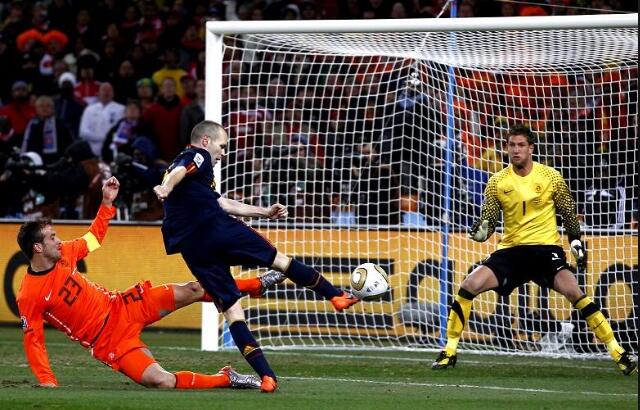 Argen Robben scored his glorious chance against Spain in the 2010 World Cup
Had Arjen Robben converted one of his glorious chance against Spain, Holland would've won the World Cup not Spain. But his misses ensured Andres Iniesta wrote his name in the history book not him.
Jurgen Klopp picked Manchester United ahead of Liverpool
If Jurgen Klopp had accepted to manage Manchester United and Liverpool's fantastically assembled team won't have exited. Kop faithful's won't have known Mohamed Salah, Andrew Robertson, Saido Mane, Gini Wijnaldum, Trent Alexander Arnold, Roberto Firmino, Joel Matip or Van Dijk.
History won't have recorded Liverpool's 4-0 comeback win over Barcelona or the 97 points points they accumulated yet finished second. Or, their unbelievable Premier League win.
Roman Abramovich bought Tottenham not Chelsea
If Roman Abramovich decided against buying Chelsea and instead Tottenham history would've be different. Chelsea would've been a mid-table club battling for survival.
Jose Mourinho remained at FC Porto:
Mourinho won the 2004 Champions League with FC Porto before deciding to leave them and join Chelsea. But if he had stayed at the club for another 4 or 5 years, he would've turned THE Portuguese league into a global power house.
Zinedine Zidane never head-butted Matarrazi in the 2006 World Cup final
If Zidane had kept his calm and composure after hearing what Matarrazi said to him, France would've gone to win the 2006 World Cup. But his crazy reaction might he left the biggest stage in world football in disgrace and changed the history of France.
More to follow soon……………..